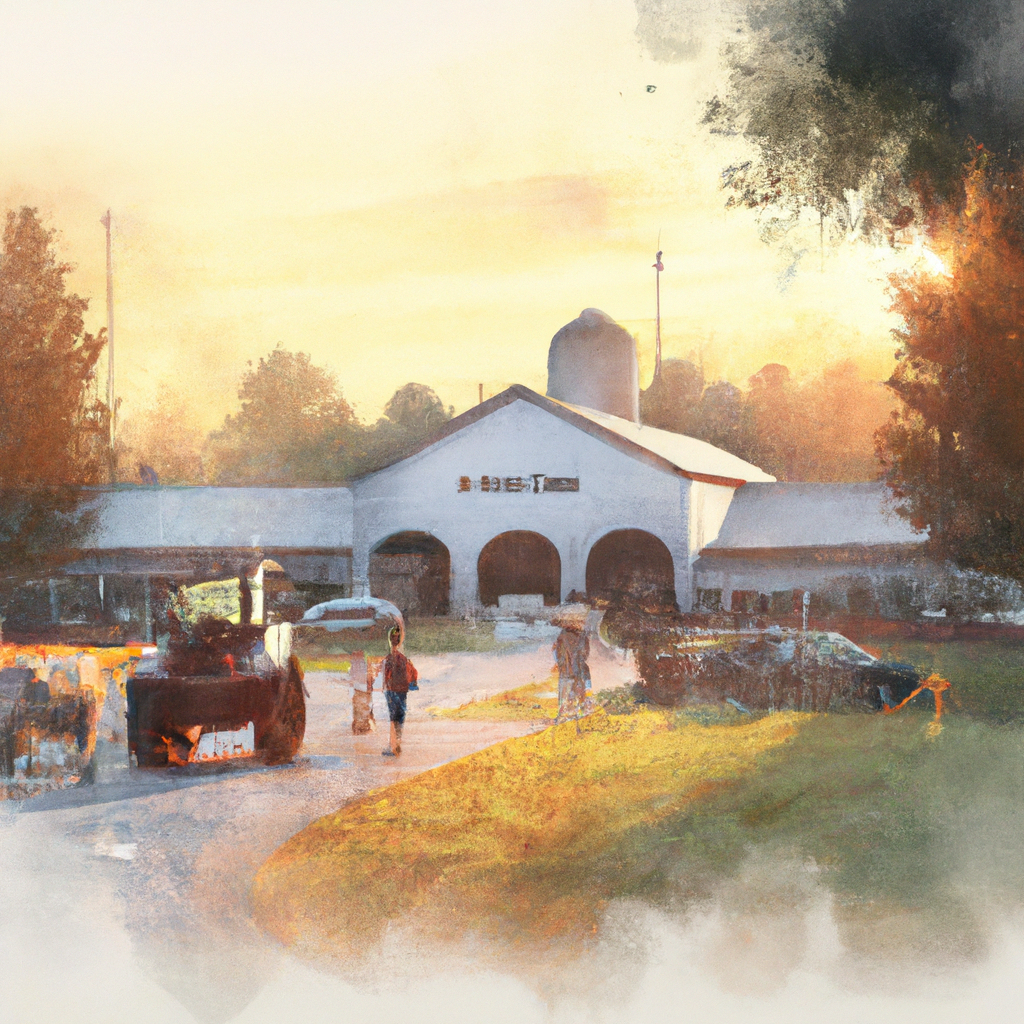 Introduction to Carroll County Agriculture Center
The Carroll County Agriculture Center is a premier hub for agricultural education and community events in Maryland. As the heart of the county's rich farming history, it offers state-of-the-art facilities for livestock shows, farmers markets, and trade exhibitions. The center provides opportunities for visitors to experience agricultural traditions and innovations in an engaging and interactive manner.
The center boasts over 130 acres of land with multiple buildings featuring exhibit halls, conference rooms, and livestock arenas. Its main attraction is the annual Carroll County 4-H & FFA Fair that attracts thousands of visitors from all over the country. The fair provides a platform for young farmers to showcase their skills in various competitions such as horse shows, baking contests, and fruit displays.
Moreover, Carroll County Agriculture Center houses a museum that showcases the history of agriculture in the region dating back to the early 1900s. It highlights the evolution of farming practices through changing times and technological advancements. Visitors can immerse themselves in hands-on exhibits that depict life on a farm back then.
Additionally, Carroll County Agriculture Center was established in 1957 after local farmers realized they needed a central place to hold auctions and events related to agriculture. Since then, it has evolved into an iconic landmark that brings together people with shared interests while celebrating agriculture's role in the community's fabric.
From humble beginnings to a sprawling agricultural hub, the Carroll County Agriculture Center proves that even cows can rise to fame.
History of Carroll County Agriculture Center
The Carroll County Agriculture Center has a rich history in promoting the agricultural industry. Its inception dates back to the 1950s when local farmers began to recognize the need for a centralized location to showcase their produce. The center opened in 1958 and has since been renovated several times to accommodate its growing popularity.
Over the years, the center has hosted many events, including agricultural fairs, trade shows, and livestock auctions. It serves as a hub for outreach programs designed to educate people on the importance of agriculture and sustainability. To further enhance this mission, the center recently expanded its facilities, allowing for more community engagement.
One unique feature of the center is its commitment to providing year-round opportunities for learning and networking. The facility offers classes on topics like composting, beekeeping, and soil health. Additionally, it provides rental space for individuals looking to host events outside of agricultural programming.
Individuals interested in supporting agriculture can get involved by attending events or volunteering at the center. Contributing to local agriculture is crucial to sustaining farming communities' livelihoods while also supporting global food security.
To fully realize these goals, stakeholders must remain committed to preserving agriculture's relevance in our changing world. By prioritizing education and community engagement, centers like Carroll County Agricultural Center can continue serving as advocates for this essential industry's future.
Even the cows at the Carroll County Agriculture Center have better accommodations than some New York City studio apartments.
Facilities at Carroll County Agriculture Center
The Carroll County Agriculture Center welcomes visitors with various state-of-the-art, agriculture-centric resources. Visitors can explore modern agricultural tools and techniques that are essential for the contemporary farmer. Apart from farming facilities, several facilities at the center cater to the needs of different businesses and events.
Ample parking space
Indoor and outdoor event venues
Various exhibition halls with modern amenities
Conference rooms with audio-visual equipment
Agricultural classrooms and labs for students
Marketplace area for locally grown produce and crafts
The Carroll County Agriculture Center boasts a beautiful landscape grounds featuring running trails that are open to guests. Additionally, people interested in keeping livestock such as sheep or goats may use designated feeding stations where they can learn proper animal care methods.
The Carroll County Agriculture Center has been a cornerstone of the community since 1954. Delight in educational activities that allow individuals to learn and appreciate farming techniques, lifestyle advantages, environmental conservation strategies while getting hands-on experience with nature.
Ready to get down and dirty with the cows at the Carroll County Agriculture Center? Check out these upcoming events!
Events at Carroll County Agriculture Center
Looking for a versatile event center that offers agricultural-themed events in the Carroll County area? Look no further than the Carroll County Agriculture Center. Here are some noteworthy points to keep in mind:
Regular horse shows and competitions
Festivals celebrating local agriculture and produce, such as the Maryland Wine Festival and the Maryland Cider Fest
Large-scale concerts and entertainment events year-round, showcasing notable national and international acts
The site is available for rent for private events, from weddings to corporate conferences
Agricultural exhibitions, featuring farm animals, equipment vendors, and educational workshops on farming techniques and sustainable practices
Sporting events such as bull riding competitions in an outdoor arena setup.
Beyond these offerings, it's worth noting that the venue provides ample parking space for visitors. Plan ahead by checking their website for upcoming events or contact their team to arrange a private gathering.
Looking for an extra-special experience? Consider booking one of their VIP packages to elevate your visit to this iconic establishment. With catering options ranging from classic BBQ to elegant sit-down meals, you're sure to impress your guests while enjoying top-shelf service.
Learn how to avoid getting trampled by cows and other essential farming skills at the Carroll County Agriculture Center's education programs.
Agriculture Education Programs at Carroll County Agriculture Center
The Carroll County Agriculture Center offers a diverse range of agriculture education programs designed to equip students with practical knowledge. These programs focus on agricultural production, marketing, and management strategies that help prepare aspiring farmers for the challenges of modern agriculture. The center also provides educational resources for adults interested in sustainable agricultural practices.
By attending these courses, students will gain an understanding of various aspects related to horticulture, livestock, and soil management techniques. These programs are conducted by experienced professionals who are committed to improving farming methods. Students get access to the latest technology in agriculture while exploring local farm-to-table opportunities.
The center's educational resources don't focus only on traditional farming methods; they have a new initiative that guides entrepreneurs into becoming successful urban farmers by teaching them how to work with smaller land areas like rooftops or balconies. This program gives participants hands-on experience in growing different crops with unique tools and techniques suited best for small scale farming.
One student named Jessica found solace after losing her job due to COVID-19 when she decided to attend one of the agriculture education programs at Carroll County Agriculture Center. She realized her passion for working outdoors and started her farm called "Jessie's Greens," selling organic vegetables grown sustainably in her backyard garden. Now she supplies local farmer markets with a stable income source, all thanks to the knowledge and skills she gained from the center's programs.
The Carroll County Agriculture Center proves that farming isn't just for the country bumpkins, it's a high-impact industry that's driving the local economy.
Economic Impact of Carroll County Agriculture Center
Carroll County Agriculture Center's impact on the local economy cannot be overlooked. Its significant role in providing a boost to the area's economic growth is evident in various aspects of the community.
| Indicators | Values |
| --- | --- |
| Direct Economic Impact | $25 million in revenue annually |
| Jobs Supported | Over 200 jobs created and supported |
| Tax Revenue Generation | $2 million generated for local and state government budgets yearly |
Moreover, Carroll County Agriculture Center has been instrumental in promoting agricultural activities, encouraging youth engagement, fostering relationships among farmers, creating education programs, and establishing a community-supported agriculture program.
To enhance the economic impact further, it would be beneficial to increase public funding to the center by hosting more events that showcase local products. Increased advertising campaigns could create awareness of available services at the center, while attracting more farmers will lead to more community engagement. Additionally, extending hours of operation can provide convenience for potential customers.
Looks like the future of the Carroll County Agriculture Center is as uncertain as the weather forecasting in this county.
Future Plans for Carroll County Agriculture Center
The Carroll County Agriculture Center has promising changes ahead. The development of the center is intended to increase and enhance its agricultural education, equestrian activities, and agricultural exhibitions. There will be innovative and constructive modifications to boost these objectives.
The facility's infrastructure upgrades include a new livestock pavilion and the renovation of current structures aimed at providing updated technology for events. Expansion of classrooms, office space, feed storage areas, and stables are also planned.
As an incentive for further growth in revenue generations at the Center, there are recent suggestions for the use of modern techniques such as digital marketing tactics to advertise events and facilitate online ticket sales. Simultaneously, it is inevitable that diversified offerings will attract more visitors to the site.
In essence, this agriculture center seeks long-term benefits by adapting mechanisms that optimize growth without losing sight of its core business objectives.
Why settle for a boring event space when you can host your next gathering at the Carroll County Agriculture Center and add a little country flair to the festivities?
Conclusion
The Carroll County Agriculture Center is a must-visit for people interested in agriculture. The facilities, events, and educational programs are impressive. Visiting this center will broaden your knowledge about agriculture.
The Carroll County Agriculture Center offers a range of facilities such as exhibit halls, arenas, outdoor facilities, and meeting rooms. These facilities host numerous national and local agriculture-related events that bring together farmers, industry manufacturers, and consumers to network and learn about new farming trends and practices. Besides that, the center also provides educational programs for individuals interested in learning more about agriculture.
It's worth mentioning that the center's location is convenient for visitors from Maryland and nearby states. Also, the affordable admission fee makes it accessible to everyone regardless of their economic status.
Don't miss out on the opportunity to visit the Carroll County Agriculture Center. If you're an agricultural enthusiast or want to learn more about farming practices or sustainable agriculture techniques, this is a center you should explore!
Frequently Asked Questions
Q: What is Carroll County Agriculture Center?
A: Carroll County Agriculture Center, also known as the Carroll County Agricultural Center, is a large multi-purpose facility in Carroll County, Maryland. It is dedicated to promoting and educating the public about agriculture and its importance to the community.
Q: What events are held at Carroll County Agriculture Center?
A: The center hosts a wide variety of events throughout the year, including livestock shows, rodeos, car shows, craft fairs, and flea markets. They also have meeting and event spaces that can be rented out for weddings, conferences, and other gatherings.
Q: Where is Carroll County Agriculture Center located?
A: The center is located at 706 Agriculture Center Drive, Westminster, MD 21157.
Q: What are the hours of operation for Carroll County Agriculture Center?
A: The center is open on weekdays from 8:00 am to 4:30 pm. However, hours may vary depending on events and activities scheduled.
Q: Is parking available at Carroll County Agriculture Center?
A: Yes, there is ample parking available on the premises for visitors attending events and activities at the center.
Q: How can I get more information about events at Carroll County Agriculture Center?
A: For more information about upcoming events, you can visit the center's website or follow their social media accounts. You can also contact them directly by phone or email.
June 12, 2023
Categories: